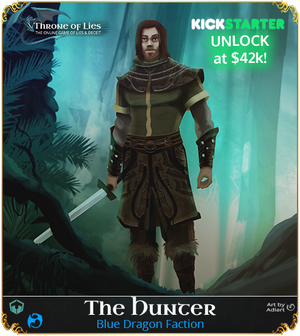 Class Summary
 Converted Class: The Poacher/The Invoker

The Hunter is is a "Killer" class that belongs to the Blue Dragon faction with the objective to eliminate the Cult, Unseen and any Neutral Killers. This class is a strong part part of the Blue Dragon, being able to kill someone you know is evil, or kill any unwanted visitors trying to kill/convert you. However, using your night abilities against the wrong people can deter your allies greatly.
Killer Abilities
| Icon | Ability | Type | Uses | Description |
| --- | --- | --- | --- | --- |
| | Retribution | Passive | ∞ | If found guilty of treason, kill your accuser before your execution. |
| | Isolation | Passive | ∞ | Immune to occupation. |
| | Wolf Companion | Night | 1 | Summon a wolf to attack someone. They will bleed and die in one day unless healed. |
| | Spike Traps | Night | 2 | Set spiked traps in your home to hurt all intruders. If trapped, the visitor will bleed and die in a day, if untreated. You will be night immune. |
Strategy
Our scouts are still searching for information and strategies concerning this class
Lore: Unknown
This class, once considered a myth is becoming more and more common. Though it's more common, we still are searching for this information...
 Night Room: Adiart Forest
This class is becoming increasingly more common. We shall still search for this information...
Ad blocker interference detected!
Wikia is a free-to-use site that makes money from advertising. We have a modified experience for viewers using ad blockers

Wikia is not accessible if you've made further modifications. Remove the custom ad blocker rule(s) and the page will load as expected.