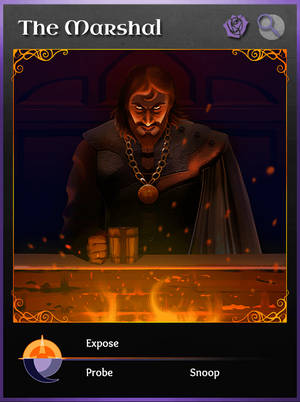 Converted Class Summary
 Original Class: The Sheriff

The Marshal is an Investigative class that belongs to the Unseen faction with the objective to defeat the Blue Dragon and any neutrals that seek to do them harm. It used to be The Sheriff, but was converted by The Mastermind.

Investigative Abilities
| Icon | Ability | Type | Uses | Description |
| --- | --- | --- | --- | --- |
| | Expose | Day | 3 | Reveal to the Unseen who the Prince jails tonight. |
| | Probe | Night | ∞ | Determine a player's class if they are part of the Blue Dragon. |
Mechanics
Probe will not return the class of Neutral players, but you will know that they are Neutral.
Expose tells you who The Prince has jailed at the start of the night, not at the time of use of the ability.
Strategy
Lore: Unknown
None of our scouts have been able to find any info. Nevertheless, we will continue searching.
Announced
September, 2017