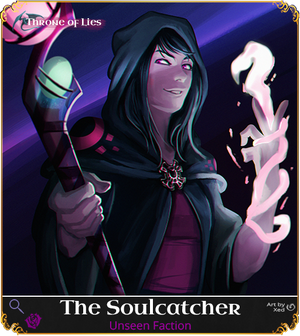 Converted Class Summary
Original Class: The Priest

The Soulcatcher is a Unique "Investigative" class that belongs to the Unseen faction with the objective to eliminate the Blue Dragon and any Neutral Killers. It used to be The Priest but was converted by The Mastermind.
This class has the power to survive death. As long as she is alive, she can gather information about other player's class types. After she has collected some souls and coordinated with The Assassin at night, this class can be very powerful against the Blue Dragon.
Investigative Abilities
| Icon | Ability | Type | Uses | Description |
| --- | --- | --- | --- | --- |
| | Consume Soul | Passive | Special | If you die at night with at least two souls, you will consume it and come back to life. (Does NOT work if executed by The Prince) |
| | Bind Soul | Day | 1 | Choose a target - they become Immune to death the following night. |
| | Collect Soul | Night | ∞ | Capture a dying player's soul. |
| | Unleash Souls | Night | ∞ | Unleash all the souls you currently have in your possession each targets a random player and reveals the target's class to you. |
Strategy
Lore: Unknown
"No harm shall come to my people - I will not allow it, for I will guide their path, for I am the King's soul."
Announced
May, 2016
Ad blocker interference detected!
Wikia is a free-to-use site that makes money from advertising. We have a modified experience for viewers using ad blockers

Wikia is not accessible if you've made further modifications. Remove the custom ad blocker rule(s) and the page will load as expected.